Welcome To Penn-Ohio Logistics LLC
OUR PURPOSE
Penn-Ohio Logistics is committed to providing our customers with the finest in shipping/receiving, warehousing and toll-processing services. We expect nothing less than to exceed our customer's needs and expectations and will do so through the total involvement and dedication of all Penn-Ohio personnel at every level of the organization.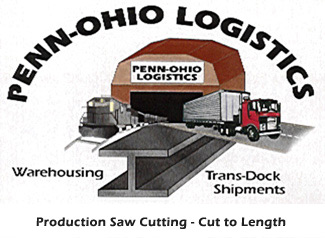 COMPANY PROFILE
Penn-Ohio's capabilities include warehousing, toll processing, and trans-dock shipping services.
We have over 200,000 Square feet of excellent warehouse space with another 70,000 available for expansion.
For truck service, we are conveniently located next to interstates 80 and 680 in Northeastern Ohio (Youngstown area). Our rail service (The Ohio Central System) connects to both the CSXT and NS mainline railroads.
We have six overhead cranes with capacities from 10 ton to 25 ton with cable chain, spreader beam, sheet lifter and plate lifter and magnet loading capabilities. There are six large drive-in truck docks plus a freight box dock. These docks can accommodate any size truck or tractor-trailer combination.
Our railroad capabilities include five lines coming into our facility and our inside spotting capacity is in excess of 25 cars. There are also multiple on and off property sidings for additional spotting capacity.
Our loading expertise includes packaging and/or re-packaging for standard as well as export shipments by either truck or rail.
Our toll processing capabilities include a Paxon cut to length line for coil processing as well as multiple production saws for cutting most all metal products and a B&O cut off machine for production pipe cutting and beveling. Please review our warehouses services and toll processing pages for details.